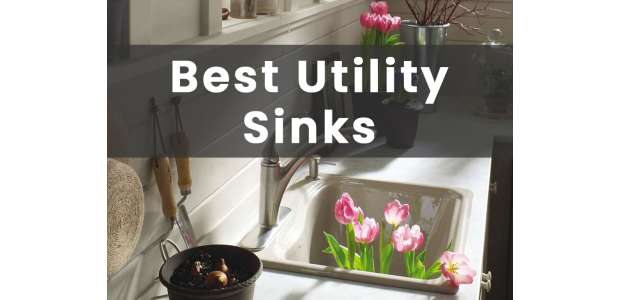 Every home must have a utility sink as it offers additional space for cleaning and keeps the rest of the house neat and tidy. A utility sink, also known as laundry sinks, makes life more relaxed and promotes hygiene. It does not differ much from a regular sink; it is large and can withstand the rough-and-tumble nature of the cleaning.
The multi-purpose utility tub offers plenty of room to clean anything from giving your clothes a hard scrub to bathing your pet. In simple words, they are sinks that are deeper and wider in size that the regular ones. The structural benefit of these sinks is that water splashes out of the tubs are minimal.
Even placing a utility tub in the garage comes in real handy as cleaning dirty footwear and clothes becomes easy. This way, you can keep the dirt out of your house.
While day to day chores are not tricky, the aftermath is undoubtedly daunting. Therefore, one can avoid the mess and choose to use the laundry sink for most of their cleaning work.
More so, it is the best option for water disposals as well. For example, if one drains water in the open, it will likely turn into a breeding ground for mosquitoes. From a personal point of view, the utility tub is the best piece of furniture one can own to keep their home clean and germ-free.
Types of Sinks: Material and Installation Type
Laundry sinks come in a plethora of materials, installation types, and even styles. Choosing and buying the right tub gets even more complicated with an abundance of choices. But hang around, our guide will take you through the step-by-step process of selecting and purchasing the best tub based on your requirement.
Laundry sinks differ in characteristics, and therefore, the guide will offer features that you can go through before purchasing the tub. We classify the types of sinks into two categories - material and installation type.
Laundry Sinks Installation Type
When it comes to utility sink installation, one can choose from over five different types such as drop-in, wall-mounted, under-mount, floor mounted, and stand-alone. Each of the models has its function, and therefore, it is a must to choose the one that best serves the purpose.
Drop-in laundry sinks - As the name suggests, these sinks drop or fit into a pre-cut hole in the countertop, while the rim rests on the top of the countertop. The faucets go on top of the sink ledge. The drop-in installation type has many pros, such as it is cheap to install, and the sinks are available in various materials.
Undermount sinks - Undermount sinks are similar to the drop-in installation, with the only difference being that lip of the tub does not lie on top of the countertop.
Wall-mounted - These sinks are affixed on the wall with the faucets installed on top of the tub.
Floor mounted - Akin to wall-mounted sinks, floor-mounted sinks are secure at the base of the floor.
Stand-alone - Stand-alone sinks are not attached to a countertop or wall; instead, it only needs s a connection to the hose. These portable sinks are easy to move around the house as needed.
Materials
Utility sinks come in various materials such as cast iron, acrylic, porcelain, and stainless steel. Each of the material types has its benefits and disadvantages, and therefore, it is ideal to choose the one that best fits your requirements.
1. Acrylic Utility Sinks
Acrylic is a common material when it comes to bathroom or laundry room fixtures. One of the advantages of choosing acrylic material is that it comes in numerous design patterns and colors. The wide range of options in style makes it very easy to match or compliment any of laundry room design theme. More so, the material is durable, hence does not require frequent replacement.
Acrylic is also known for it's scratch and stain resistant characteristics. On the downside, the acrylic material is not heat resistant and therefore one must be mindful of not pouring very hot water directly into the sink. The acrylic material also makes a sound when water hits them. The reason these sinks are more popular is that they are pocket-friendly.
2. Cast Iron Utility Sinks
Cast iron utility sinks date a long time back and are still favorites of many. In comparison to others, the traditional material is hard-wearing and can withstand very rough utilization. These sinks are enamel-coated to resist hot water and harsh usage. One major disadvantage is that consistent use wipes out the enamel coating, exposing the cast iron. It can lead to rusting if one fails to reglaze enamel on the cast iron.
3. Stainless Steel Utility Sinks
Stainless Steel sinks are popular because of its ease to clean them. Akin to acrylic, stainless steel sinks are lightweight and easy on maintenance. On the downside, stainless steel is very loud when water hits the surface.
4. Porcelain Utility Sinks
Porcelain materials are classy and beautiful that can transform the look of any laundry room. Apart from being easy to clean, they can resist high water temperature.
Top 10 Utility Sinks for Your Laundry Room
Choosing the right utility sink is very important and there are various aspects one must consider before purchasing the next laundry room masterpiece. Before buying, consider the use it will be put for and ensure that it matches your budget. One must also find the right design and color so that it blends well with the rest of the laundry room fixtures.
Below we have listed the top ten utility sinks, that covers all installation types and materials.
Kohler's River Falls utility sink is one of the best in the market. The cast iron under-mount sink makes for a perfect tub for daily laundry chores. Its extra-deep bowl and washboard offer organized space to complete multiple tasks simultaneously. The Kohler laundry sink has 3-accessory holes on each side addition to the 4-faucet holes.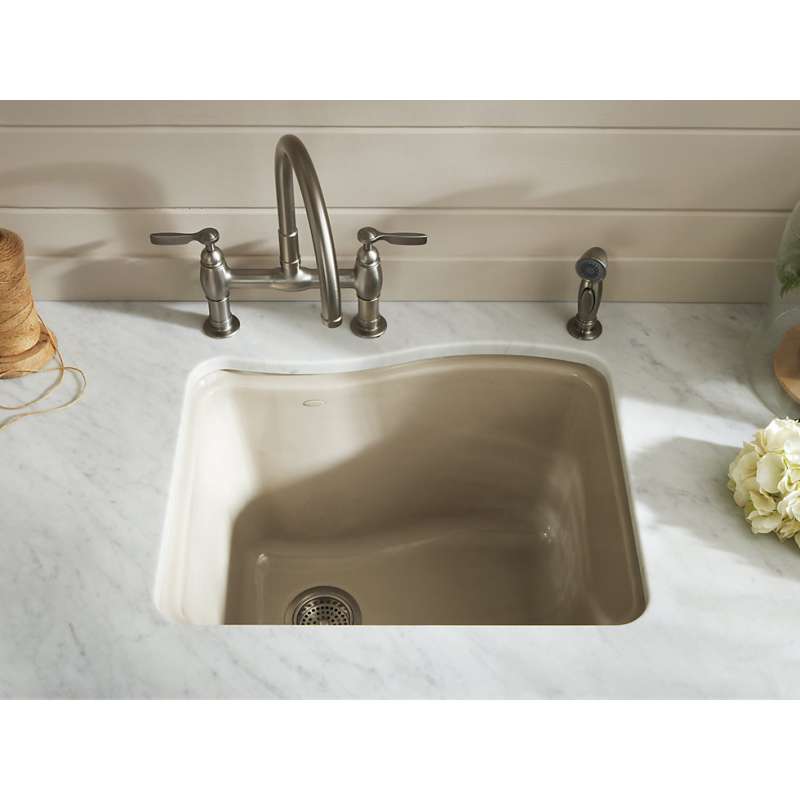 The sinks come with Kohler's trust of quality and assure scratch and stain proof surface for many years. As such, the manufacturer ensures that the coating will not chip, crack, or burn. Kohler's enameled cast iron makes an eye-catching statement with its rich finish. The under-mount utility sink will complement the countertop and other fixtures correctly. More so, one can choose from fourteen colors, ranging from bold shades to subtle hues, that can easily blend in with any design theme.
Pros
Kohler's River Falls utility sinks offers ample workspace with its 14-1/4 -inch bowl.
It is a single bowl with oversized faucet holes, making it easy to install faucets and accessories.
Completing chores is easier as it comes with a washboard, soaking pan, and wire rack. Therefore, one can find all required material at hands distance.
The Kohler masterpiece can efficiently work with garbage disposal.
Accessory holes provide space to attach soap dispenser.
Cons
The sinks come at a whopping price tag of $816.
The Laundry room is a vital part of the house where all the cleaning is done, and therefore, it is necessary that it has generous floor space. However, not all laundry rooms are big in area, and consequently, it is challenging to buy sinks that can fit into small places. Blanco's Laundry Sink Satin is a perfect utility tub for smaller laundry spaces. Apart from offering ample room for cleaning, the deep basin flaunts a stylish and sophisticated look.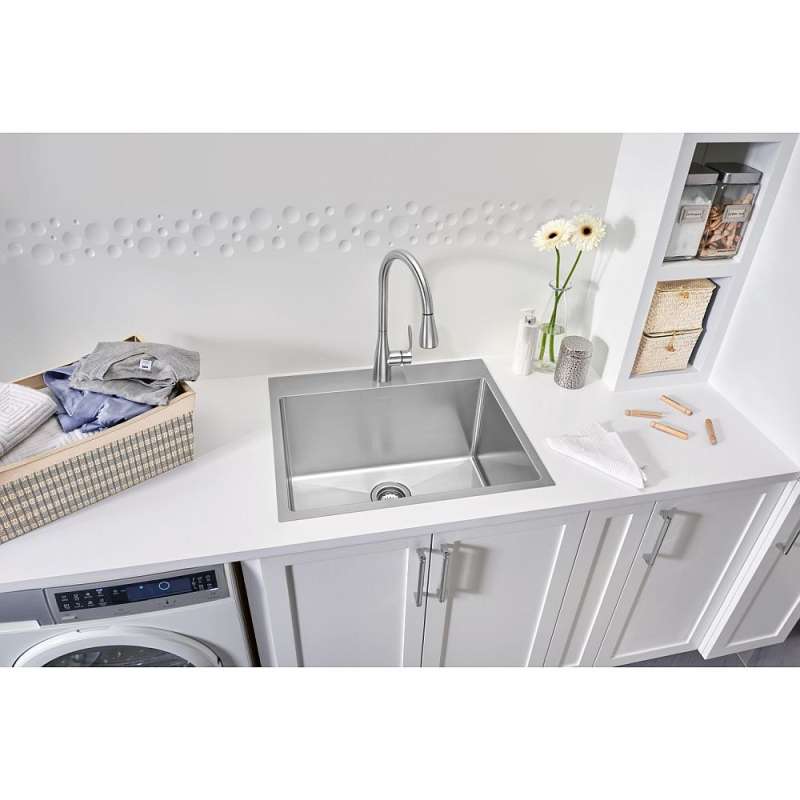 What's more, is that it is ideal sink will have a prolonged life as it is made out of 18-gauge stainless steel. The Blanco sink can withstand all the heavy-duty cleaning.
Blanco's masterpiece comes with a satin finish that makes it very easy to clean. Among its best features include the sound-deadening pads, that absorbs vibration and results in a sound-proof room.
Pros
The commercial-grade 304 stainless steel built is highly durable.
It comes with sound-deadening pads.
Scratch and stain proof surface.
It is easy to install in any space.
The premium satin finish on the basin makes it very easy to clean and blends it with any decor.
It offers a sophisticated look at an affordable price.
Cons
Swan MF-2F is a double bowl laundry tub that provides a generous space to complete the cleaning chores. The floor-mounted sink stands on four angular steel legs that adds structural strength to the basin. It comes with a molded-in washboard. However, the utility sink does not include wall mounts. More so, another major disadvantage is that the sink comes with punch-out marks instead of drilled faucet holes.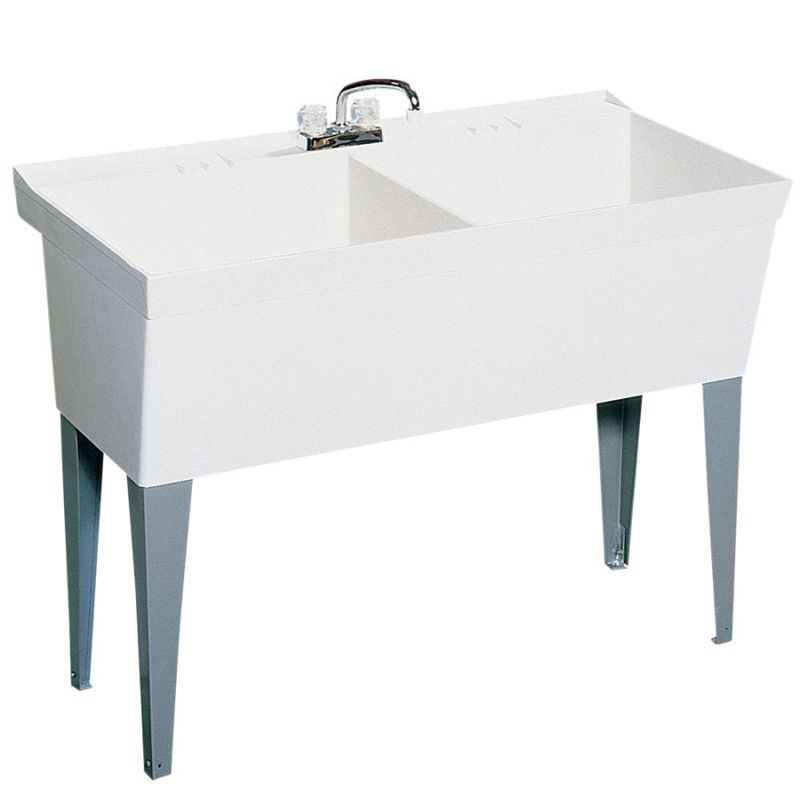 The laundry tub is made of robust Veritek. Swanston Veritek is a compression-forged material that is self-manufactured by Swan Corporation. It is a non-porous material and does not come with a surface coating. One of the most significant advantages of the Veritek is that it is impervious to chipping and cracking.
Pros
The built quality is impressive, and it is resistant to cracks. The veritek material is very easy to clean and maintain.
It is a double bowl tub that adds provides additional space for cleaning.
The double compartment basin has a 44-Gallon capacity.
The angular steel legs are sturdy and certainly will give the basin a prolonged life.
Cons
It is not suited for a small space.
The Swan utility sink does not come with any wall mounts.
It does not come with pre-drilled faucet holes.
Transform your laundry room with Blancos' refined brushed sink. It is a perfect balance between style and functionality. The refined brushed utility basin is yet another gem from the sink manufacturer - Blanco. The compact size of the basin is perfect for small laundry rooms. It offers ideal functionality with the deep bowl design and center drain placement. Akin to all Blanco's laundry sinks, this also comes with sound-deadening insulation.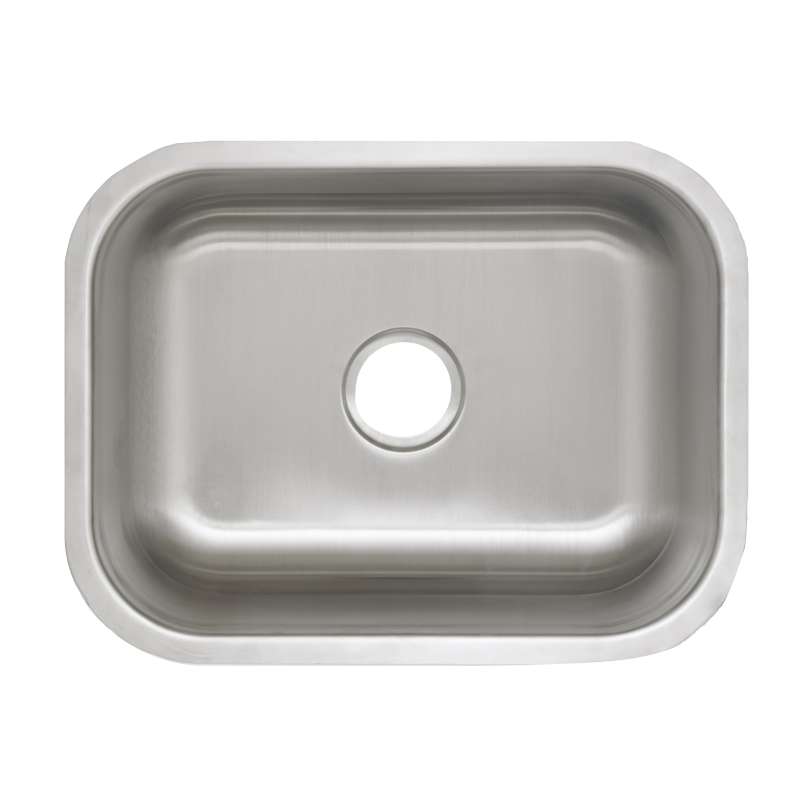 The refined brush finish makes it very easy-to-clean. The under-mount sink is manufactured using 18-gauge stainless steel. The traditional style tub makes for a remarkable visual addition to any laundry room.
Pros
It is manufactured with premium quality stainless steel.
The Blanco basin integrates sound deadening pads making it one of the most silent sinks.
The refined brush surface makes it easy for cleaning and maintenance.
The compact size makes it one of the best sinks for small spaces.
The drain placement makes an optimal drainage capability.
It does not lose the glossy finish even with rough use.
The Blanco utility basin blends in with any design theme.
Cons
It does not come with under-mount clips.
Not suitable for showering your pets or cleaning any large item.
The stainless steel surface scratches easily.
Sterling Latitude is built using the premium Vikrell material that offers stuntedness over the long period. One of the most significant advantages is that the free-standing metal stand that holds the sink adds a contemporary touch to the laundry room. One can store all the cleaning tools and equipment underneath the metal stand. More so, installing the Sterling Latitude is easy as pie.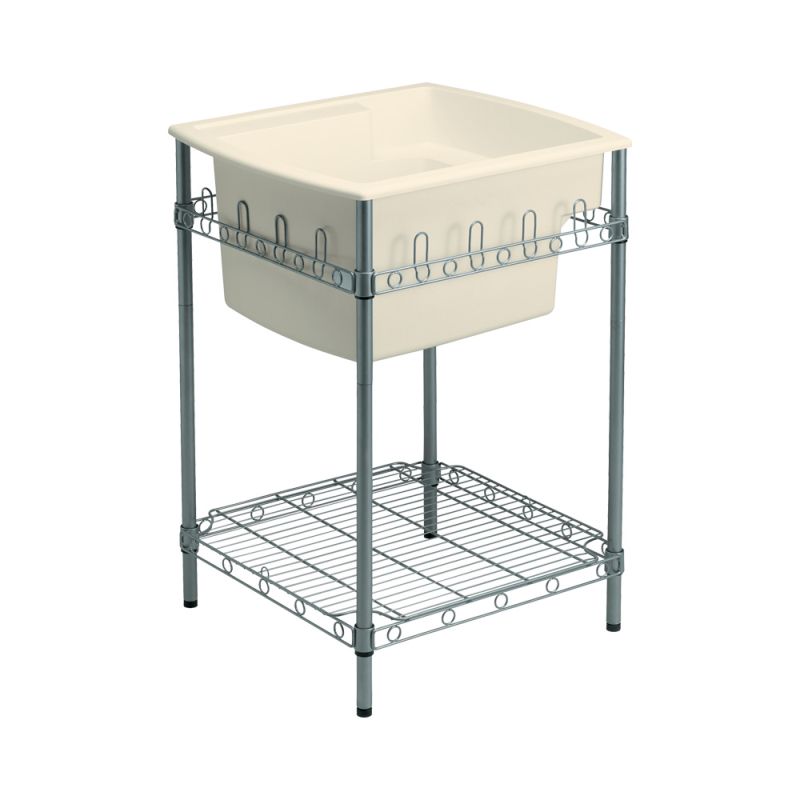 The durable unit has a great functional design ceases water spillage. Using the sink, one will avoid making a mess as the self-rimming edges do not allow the water to get away from the sink. It is an anti-rust and anti-scratch sink. The biscuit-colored basin makes it a decorative fixture for the laundry room.
Pros
The Sterling Latitude comes with a free-standing metal stand that offers additional storage space.
It is a perfect sink to clean small items.
It has a unique design and features a quarter deck.
The premium built surface is stain and scratch resistance.
Increases the style quotient with the side curves.
It has a six-gallon capacity.
The structural design makes it impossible for water sillage.
Cons
It only comes with one pre-drilled hole and two punch out marks.
The basin is not suitable to large items.
Swan MF- F is a single compartment basin that is built with sturdy Veritek material. The major advantage of the material is that it does not come with any surface coating; hence, there is no chipping or cracking of the top surface.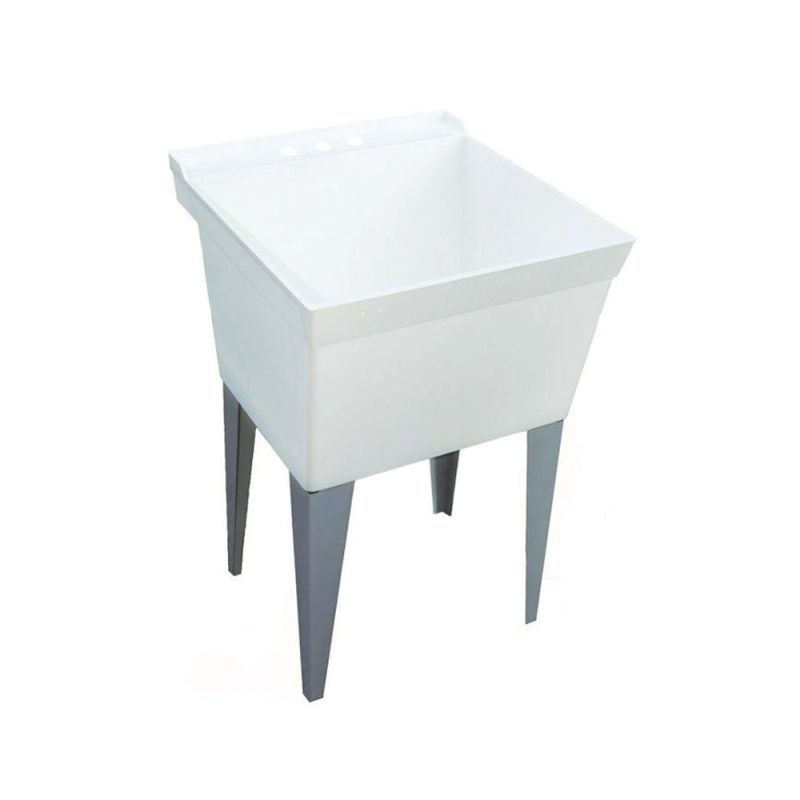 The 18-gallon capacity basin comes with a drain and four metal legs that provide additional strength to the overall unit. More so, it includes molded-in washboard. The sink comes with pre-drilled holes, making it easy to install the faucets. The white colored sink with shiny legs compliments any style of cabinetry in the laundry room.
The free-standing utility tub is perfect for compact spaces.
Pros
It offers lasting performance as it does come with any coating.
The sink depth offers generous workspace
It does not mold or mildew.
The Swan basin unit includes four angular steel legs that are about 3 feet high. One of the perks of using this Swan sink is that it comes with extender at the bottom of the leg, allowing one to raise the height by an inch or two.
It is ideally a good utility sink for the price.
Cons
The connection between the basin and steel legs is not stable and thus requires additional effort to make it stable.
Kohler Undertone is an undertone utility sink that is perfect for laundry rooms and even for kitchen. The stainless steel basin aces in function and style. It's proven durability, and the sound-absorption system makes it one of the best picks when it comes to stainless steel laundry sinks. It uses SilentShield technology that significantly minimizes sound while cleaning items.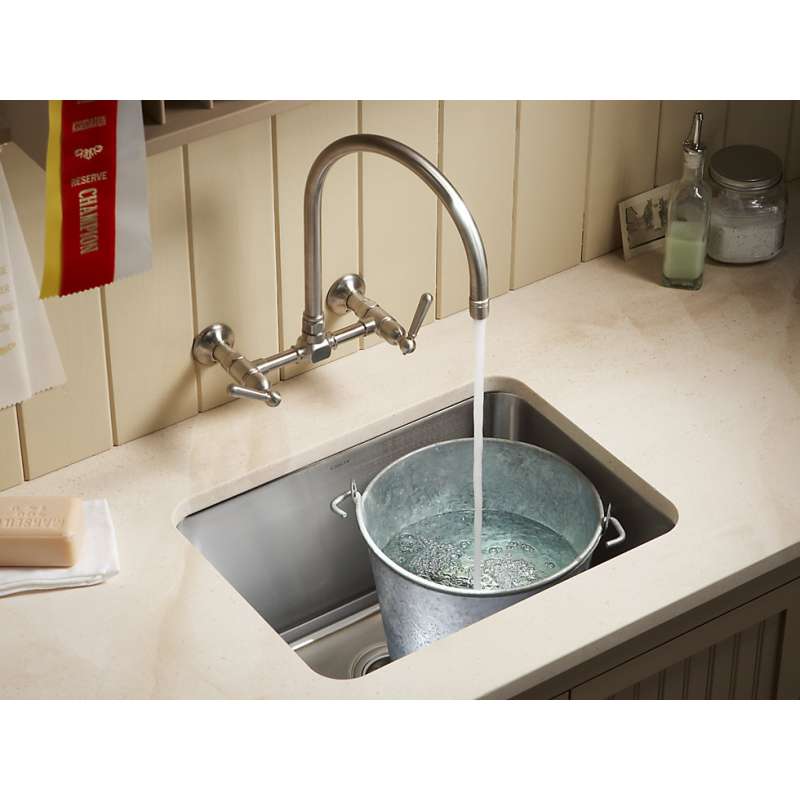 The masterpiece tub comes with Kohler's anti-stain and anti-rust guarantee. Even rough use or hot temperatures won't hurt the stylish laundry tub. The tub is perfect for compact sizes and is designed in a way to offer more workspace. The sleek look is an added advantage as it compliments almost any style.
Pros
The Kohler sink comes with proven quiet technology. Be it running water or clanging dishes; the technology cuts down all the noise.
It has a rear drain that occupies less storage and offers additional workspace.
The laundry tub comes with installation hardware.
It does not have faucet holes.
Cons
It accommodates large items and therefore is good to wash and clean small tools.
The unit is too pricey, but it compensates it with its style and function.
Transolid Compostite is one of the best laundry sinks when it comes to cleaning. In terms of appearance, the sink may not look good, but it compensates it with functionality. It provides ample space to clean and soak large items.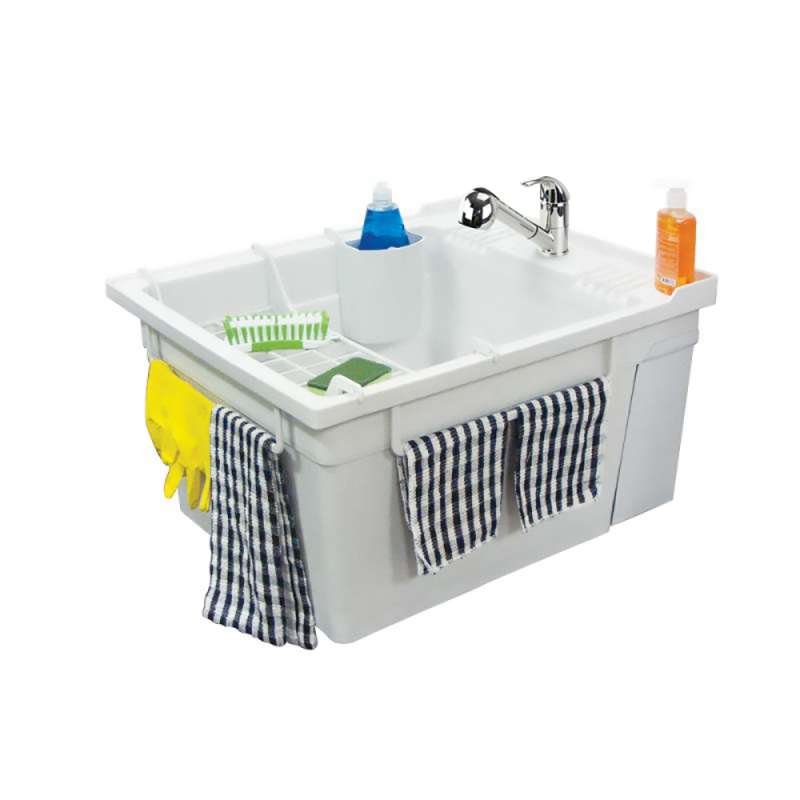 One of the best parts of the purchasing the wall-mounted Transolid Composite is that it comes with a complete accessory kit. It is one of the best multi-purpose laundry tubs available in the market. The single compartment sink is constructed using an innovative and unique process, resulting in a seamless final product.
The solid brass pull-out faucet comes in multiple sprays. The accessory kit consists of towel holders on two sides, bottle holder, supplies and drying rack. The basin comes with mounting brackets and hardware to fix the tub on a wall.
Pros
The Transolid Compostite is easy to install.
Easily clean big items.
It is a multi-purpose utility sink that comes with an accessory kit.
It comes at an affordable price.
The Transolid Compostite utility tub comes with complete installation hardware.
Cons
The single compartment sink is not very durable.
Kohler Park Falls utility sink is specifically designed to provide ultimate functionality in smaller spaces. It is a dual-mount sink where one has the choice to either drop-in or under-mount it. It is one of the only two cast-iron laundry sinks that make it to our list of top 10 utility sinks. The sink is manufactured with Kohler's enameled cast iron.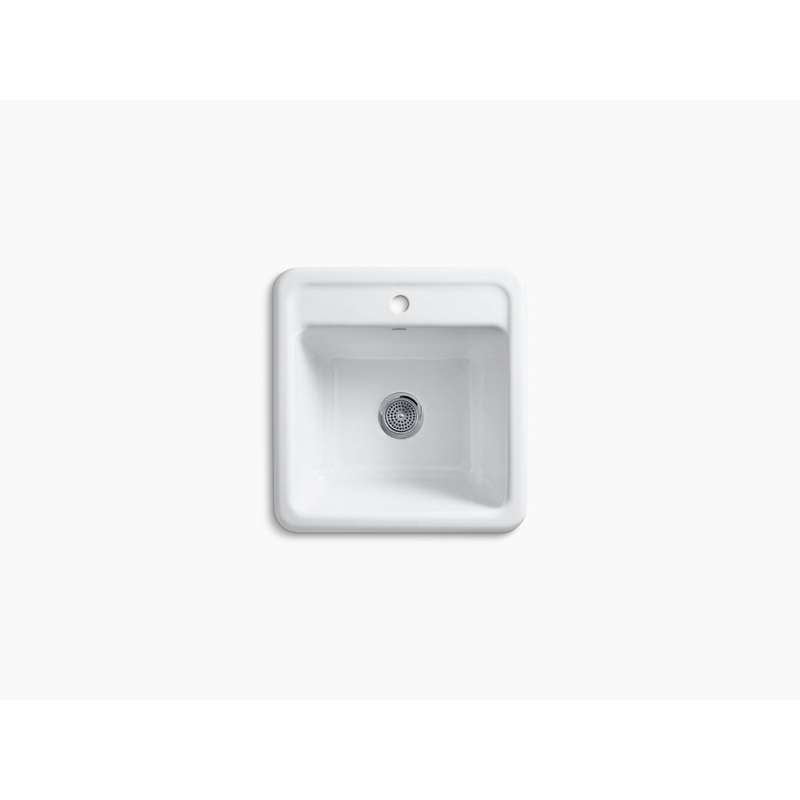 The laundry tub comes with Kohler's promise of quality. According to the manufacturer, the sink surface is scratch and stain-proof. More so, it can even resist hot temperatures. The structural design is small, but it provides generous workspace. Its contemporary yet straightforward appearance makes it easy to blend in with any design theme.
Pros
The small size fits compact spaces and is ideal for a small laundry room.
It is a dual-mount tub, allowing multiple mount options.
Kohler's cast-iron masterpiece offers ample workspace with a depth of 12-1/2-inch.
It has a proven record of reliable performance.
The utility sink is resistant to heat, scratch, rust, and stain.
It is good for the price because it comes with Kohler brands guarantee of quality.
Cons
It is not suitable to handle heavy-duty work.
The sink is not ideal for big laundry spaces.
Kohler Ballad offers a multifunctional workstation for the laundry space. It is a quintessential stainless steel utility sink that packs multiple functions. Akin to Kohler's other stainless steel units, the Ballad also comes with the quiet technology that significantly reduces dishwashing running water and garbage disposal sounds.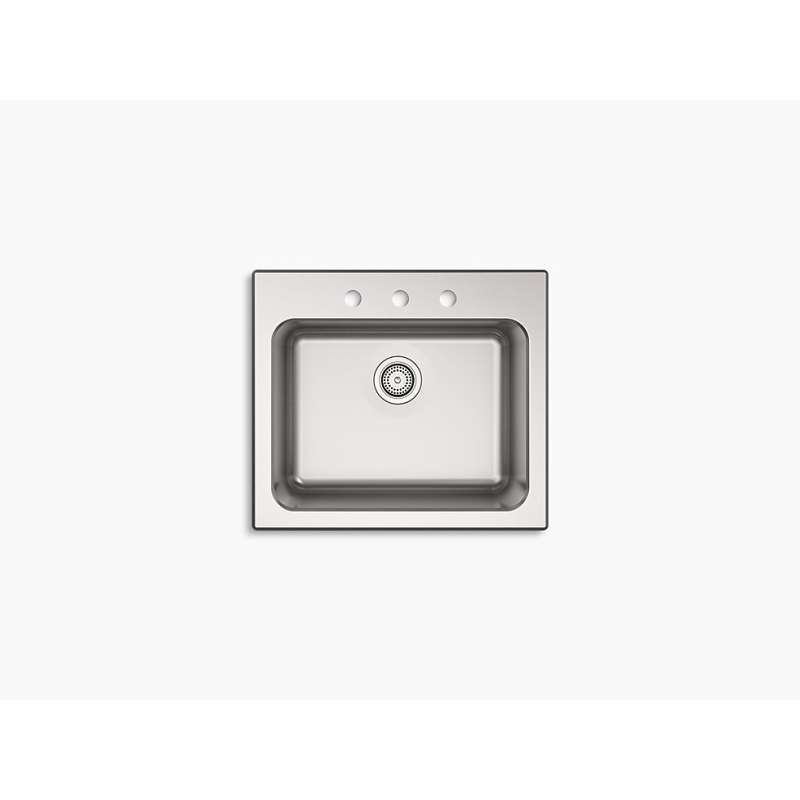 The sink unit will pack come with the installation hardware. The Kohler Ballad is a top-mount only sink and fits perfectly into small spaces.
Pros
The utility tub is built with 18-gauge stainless steel.
It offers a multifunctional work area.
The sink packs a sound-absorbing technology.
Cons
It does not include drain or strainer.
The Kohler sink is expensive for the function it provides.
Every room in the house deserves to look and function the best as possible, including the laundry room. The sinks mentioned above are specifically designed to ease your day to day cleaning tasks. Utility sink come in very handy and is the best piece of investment for any mudroom. Indeed, having one makes cleaning organized and life more comfortable.
There are many other utility sinks beyond our list of top ten, so choose the one that best meets your needs.
Leave A Comment