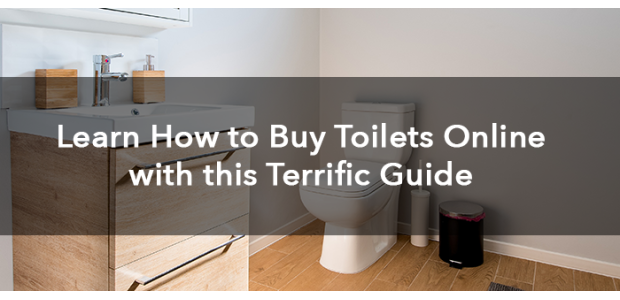 To buy toilets online, it helps to be in-the-know with important aspects of this product, including height, design, and even luxury options. This is your terrific guide to toilet buying!

No bathroom is complete without a toilet. From toilet bowls to toilet seats with bidet, it can be tough to determine what type of toilet suits your needs.
Luckily, with our terrific guide, you can learn to buy toilets online to suit your standards of style, aesthetics, and function.
Types of Toilet Shapes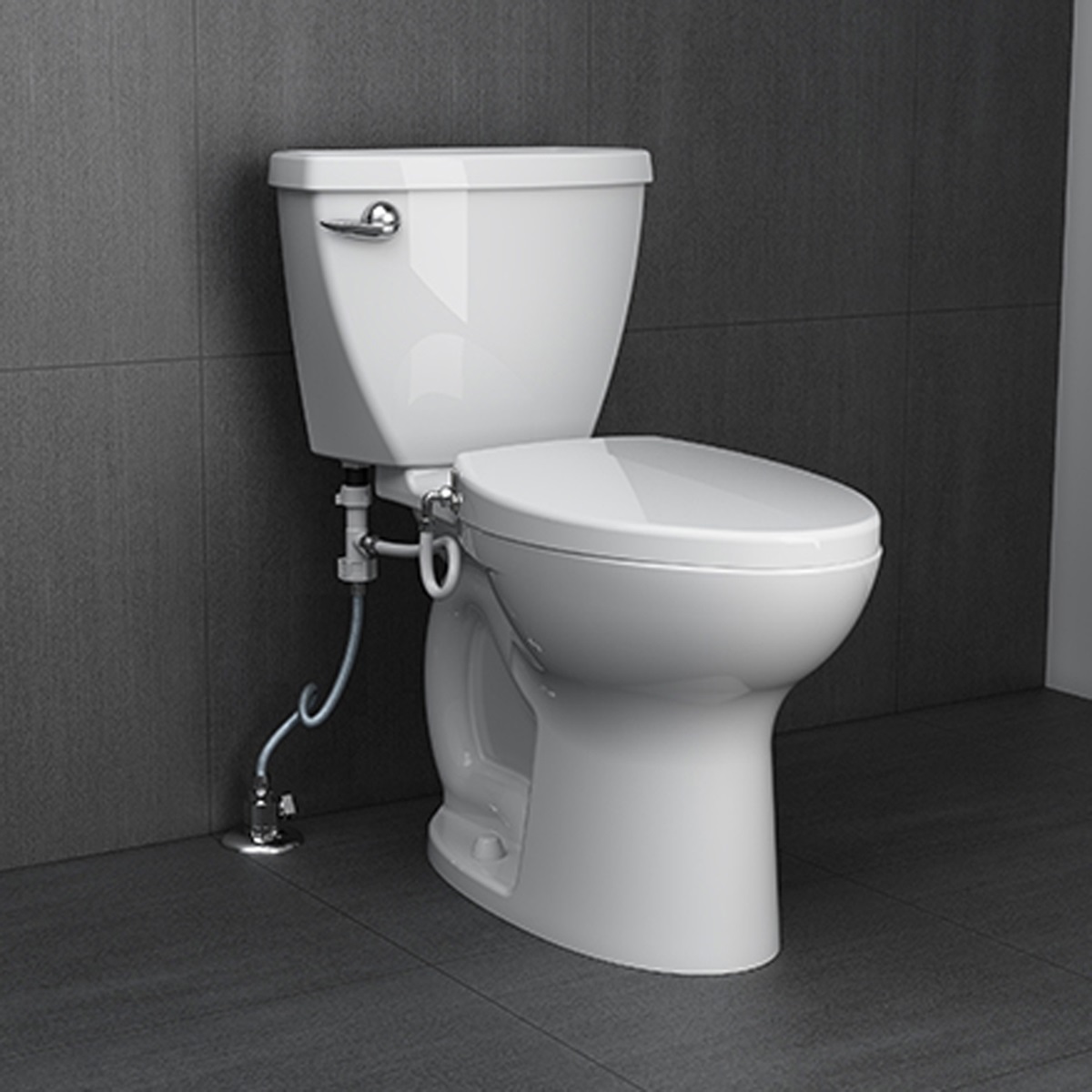 While toilets come in relatively similar shapes, there are subtle differences that can add to the design of your bathroom.
In terms of the toilet bowl, you'll find:
● Compact toilet bowls: These are circular or square-shaped bowls.
● Elongated bowls: These are oval or rectangular in shape.
Determining the Right Shape for Your Toilet Bowl
Did you know that the shape of your toilet can have an impact on comfort? It's true! Elongated bowls provide more support to the thighs so the legs don't dangle over the rim. The opening of the bowl is also wider, which is convenient for most adults.
Compact options are convenient for small bathrooms. These options only take 2-inches or less of floor space. Urinals can also serve as an option for bathrooms with very limited space.
Another consideration for compact bowls with circular or square shaped toilet seats is the size of the person using it. Children may find it easier to use compact toilets.
While the shape of this product is important, another major consideration is height.
Toilet Height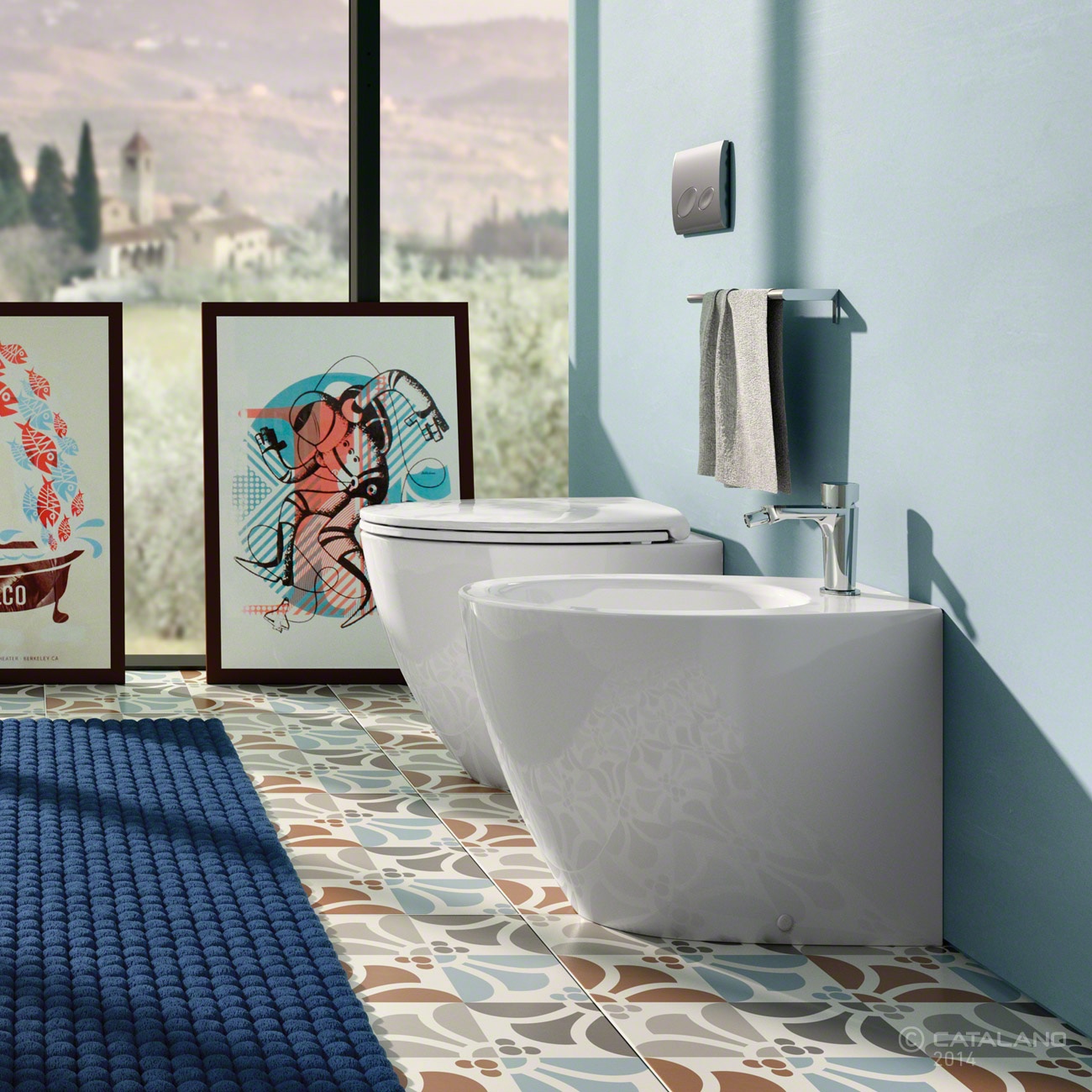 The height of the typical toilet is 14" to 15" from the floor to the rim of the toilet. However, when it comes to toilet height, there are a few key factors to keep in mind.
Comfort, once again, plays a role here. In fact, there are toilets that are tailored to comfort known as comfort height. These are roughly 2-inches (6 cm) taller than the average toilet. The idea is to relieve pressure on the joints while sitting.
Serving those with disabilities. A taller toilet height is more comfortable to those with walkers, wheelchairs, and other disabilities. The American Disabilities Act requires toilet height between 17"-19" floor-to-rim height.
Your own height. If you are tall, you might feel more comfortable with a taller toilet. However, if you're short or there are children in your home, a standard height toilet might work best.
For total customization, a one-piece wall-mounted toilet can provide the exact height and ideal comfort that you need.
Toilet Design: Pieces and Mounts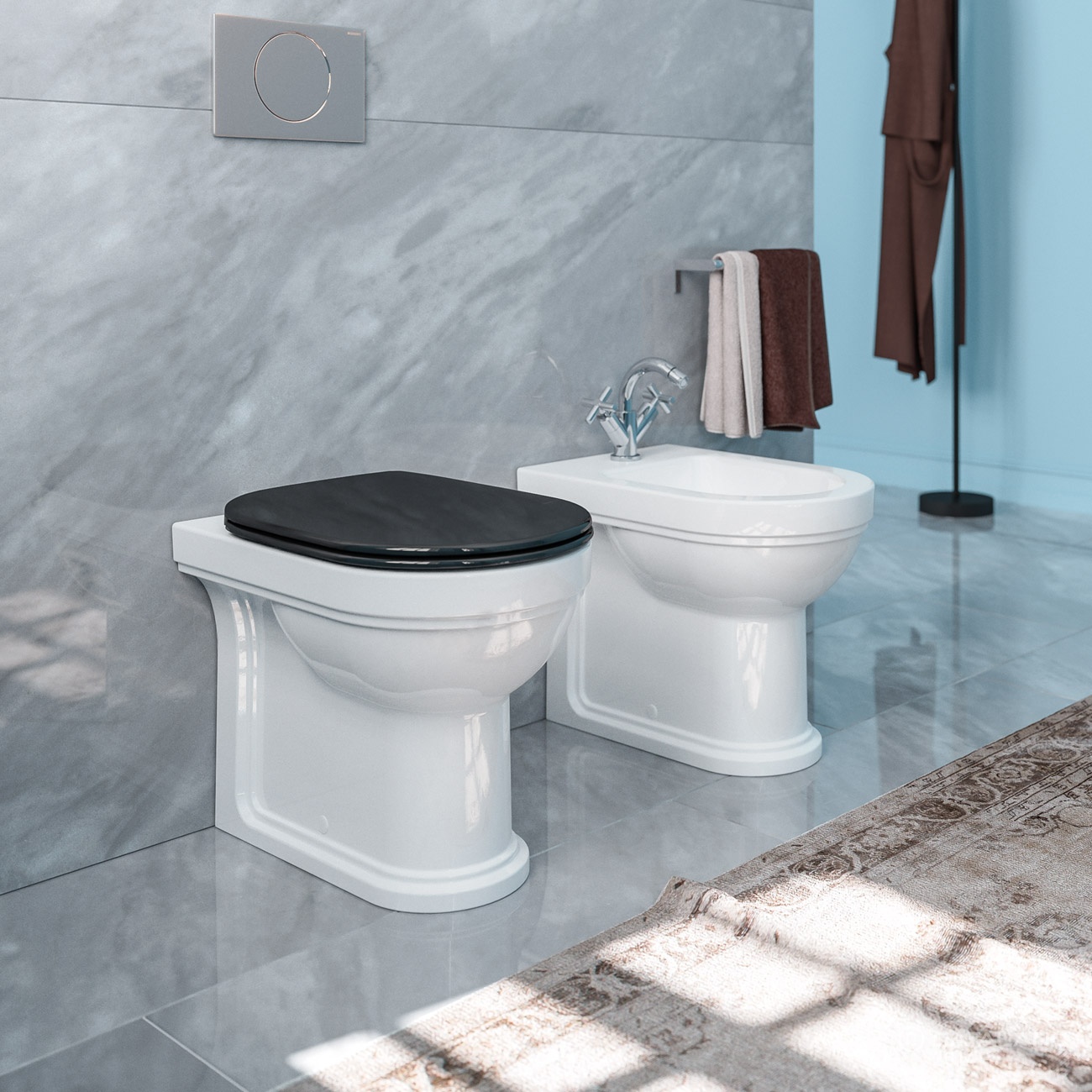 We've come a long way since the days of the chamber pot. Today, you can find both modern and traditional toilet styles to add personality and function to your bathroom with these designs.
Two-Piece: The classic toilet as we know it in Western culture comes in two pieces: a bowl and a tank. These can come together as a set or you have the option to mix and match to make your own custom toilet design. However, toilet seats are typically purchased separately. Two-piece toilets are efficient and relatively easy to clean.
Wall-Mount: A wall-mounted toilet seat is a modern toilet design that also saves space. While these products are more common in commercial bathrooms, you can also find them in residential homes. With this type of toilet design, you can save more floor space while providing a somewhat futuristic bathroom style.
Now that you know that two common types of toilet design, you don't want to forget the small details that help this product become even more functional.
Toilet Seats
Just like toilet bowls, not all toilet seats are created equal. They can impact the function and comfort of your toilet, so keep the following considerations in mind as you look to buy toilets online:
● The color of the toilet seat matching the toilet.
● Choose toilet seats that match the shape of the toilet bowl.
● Fit of the toilet seat so it doesn't slide around.
● Seats with arm support for the elderly or disabled.
● Additional luxury features such as toilet seats with bidet, warm air flow, and built-in odor control.
Find the Right Type of Toilet at Bath1
Bath1 offers a range of toilet options, accessories and brands, including American Standard toilets and Transolid toilets that bring out the best in your bathroom. View our complete collection now.
Leave A Comment