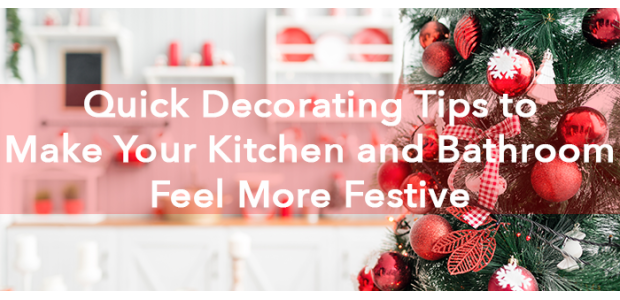 We're a few short weeks away from Christmas. Do you have some last-minute decorating on your to-do list? If so, you're in luck! We have a few foolproof tips to spruce up your kitchen and bath just in the nick of time for Old Saint Nick.
Decorating your Kitchen for Christmas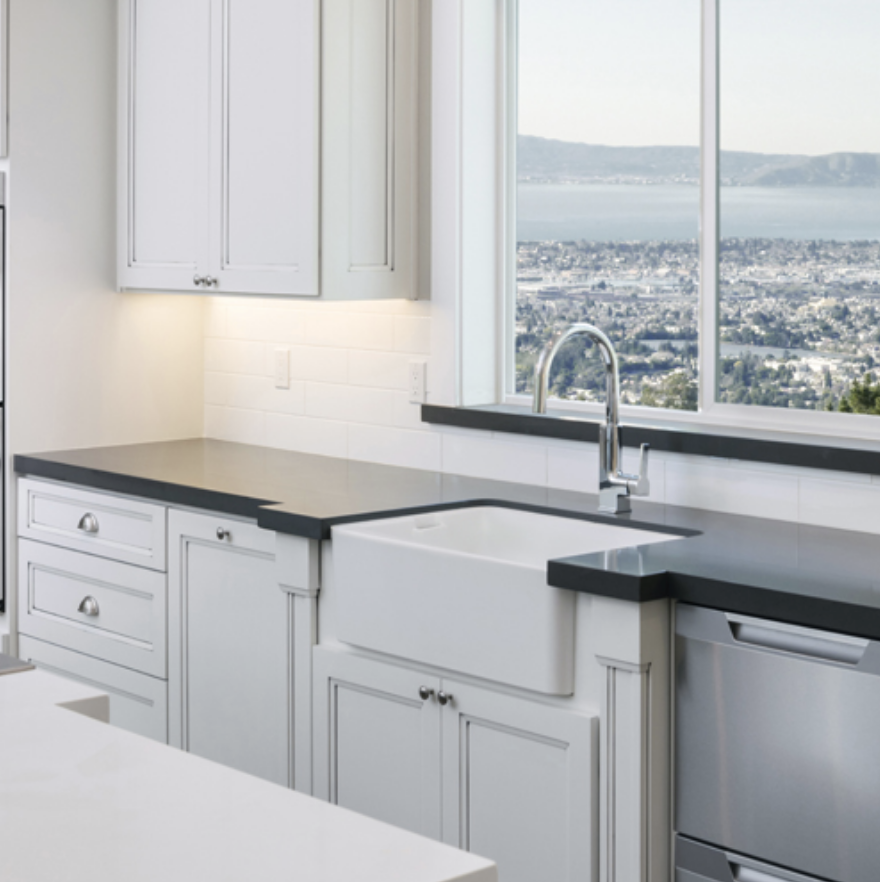 Let's start with the kitchen---the heart of the home for meals, laughter, and gathering. Consider the following quick and easy kitchen decorating tips for the season:
Top of Kitchen Cabinet Christmas Decorating Ideas
First, make your kitchen cabinetry stand out with top of kitchen cabinet Christmas decor.
Winter Wonderland Scene: Spread fake snow along the top of your cabinet and display your quaint Christmas village collection as a winter wonderland scene.

Spell it Out: Find large decorative letters from the craft store to spell out words such as "Santa" or "Noel" and place above the cabinets.

Go for Garland: Quick and easy, simply place a garland along the top of your kitchen cabinets. Add small details such as ribbon, pinecones, or even Christmas lights for a holly jolly display!
Don't forget that replacing your kitchen cabinet hardware can add a splash of luxury and sparkle that lasts all year long!
How to Decorate Kitchen Counters for Christmas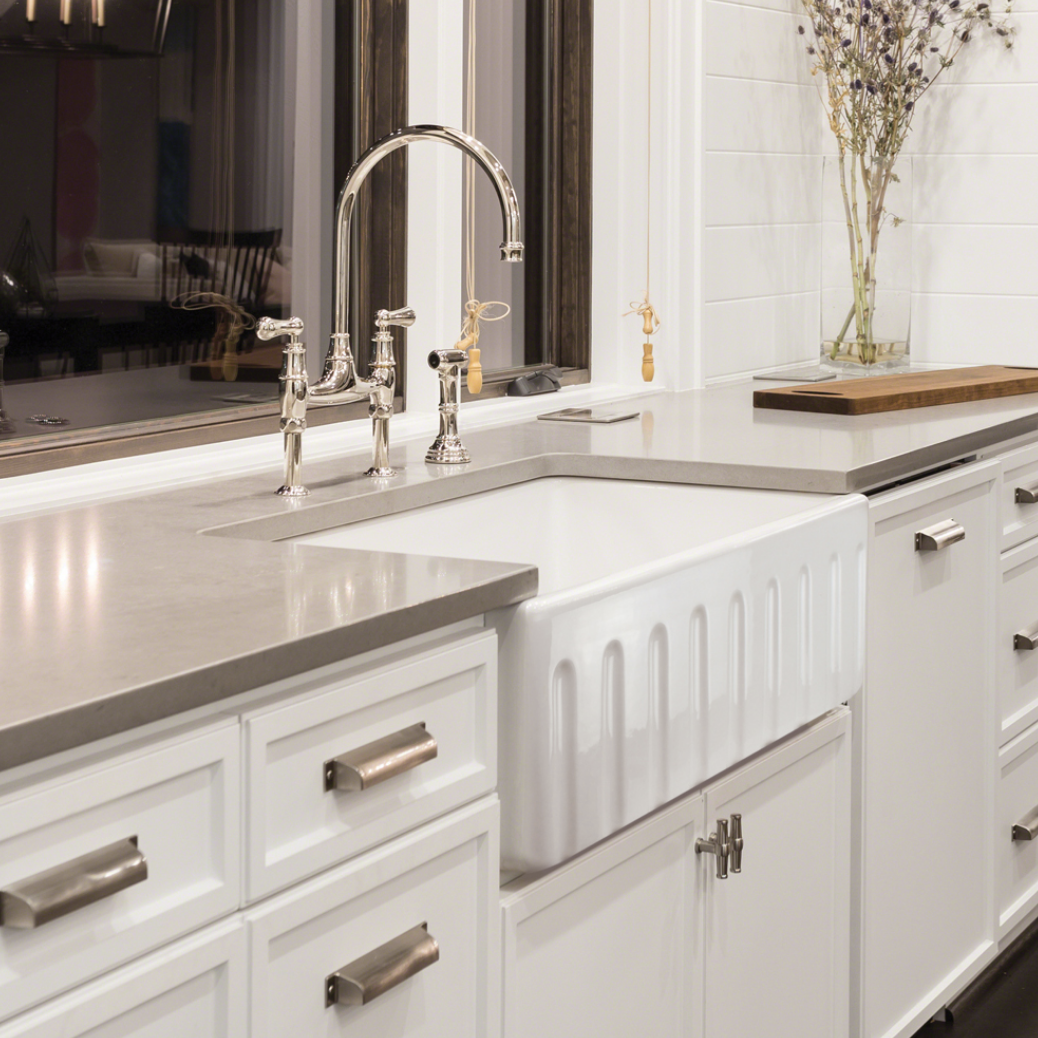 Kitchen counters create endless decorating opportunities this time of year, including:
Display Small Collections: If you have a small snowman collection or perhaps some reindeer, try displaying it on the kitchen countertop. You can also mix and match items of similar sizes or finishes.

On-Point with Poinsettias: Imagine the impression of a bright red poinsettia in a stark white kitchen! Live plants always bring Christmas cheer to any space.

Candles on the Countertop: Candles are popular on kitchen countertops all year long. For the season, swap out those candles for large and luxurious candle holders in white or red.
Once your kitchen is nicely decorated, you might be expecting guests to arrive. Don't stress! The following advice can help make your kitchen much more functional.
Preparing Your Kitchen for a Stress-Free Holiday Party
If you're hosting a holiday party, you'll need your kitchen to be as functional as possible. Those who are always cooking for large parties can install pot fillers which reduce back strain and allow you to multitask.
Furthermore, small kitchen appliances such as garbage disposals can help make cleanup time faster.
Lastly, if you notice that your kitchen faucet has seen better days or you could use a snazzy new bar faucet, now is the perfect time to upgrade!
From the kitchen, let's talk about how to decorate a bathroom for Christmas.
Christmas Bathroom Decorating


Adding hints of the holidays to your bathroom is quick and easy with the following ideas:
Take Advantage of Towels: A new holiday towel set can add personality and a festive touch to your bathroom. Combine these towels with beautiful towel rings or towel hooks for functionality and style.

Bring Comfort and Style: When your guests are in the bathroom washing their hands, make it convenient to find towels close by. Want to make an even bigger impression as host of the holiday party? Offer an electric towel warmer!

Add Christmas Beauty to Bathroom Vanities: Bathroom vanities present the perfect spot for Christmas decor. Add extra color to bathroom cabinets by hanging ribbon in gold, silver, red, or green.

Make Way for Bathroom Accessories: Decorate bathroom vanity tops with cute Christmas decor and beautiful accessories, such as sleek soap and lotion dispensers.

Spotlight the Beauty of Your Mirror:

Bathroom mirrors bring an allure to your bathroom any time of year, but they can provide a special sparkle during the holidays! Contemporary mirrors such as an LED bathroom mirror can offer a subtle glow for your bathroom. You can also try all kinds of decals ranging from snowflakes to Santa's elves!
The bathroom and kitchen are two ideal spaces to add a special touch to the holidays this year. We hope these tips and ideas gave you some inspiration!
Enhance the Beauty of Your Bathroom and Kitchen with Bath1
Bath1 has an endless inventory of bathroom and kitchen upgrades! Browse around and discover all the possibilities to make your home more beautiful all year long.
Leave A Comment