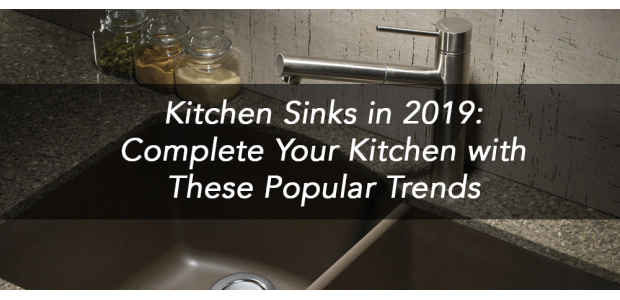 We're ready to spill the details of the trends for kitchen sinks in 2019! From materials to shapes and sizes, these are the popular yet functional sink products that will enhance your kitchen.


Close your eyes and picture your dream kitchen.
As you envision every detail, the kitchen sink is one of the most prominent aspects of the kitchen's design. You'll find faucets of various shapes, finishes that reflect both modern and contemporary styles, and all types of kitchen sink accessories that offer luxury and function.

Like all other kitchen trends, sink trends come and go as interior design transitions from year to year. Whether you're remodeling or building a brand new kitchen, this is what you can expect with kitchen sink trends in 2019:


Undeniably Unique Kitchen Sinks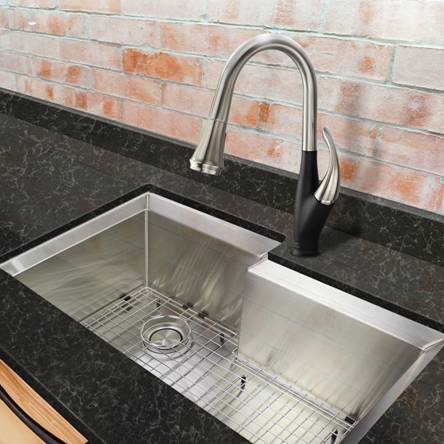 If you're looking for kitchen design inspiration, the sink is a great place to start. You can essentially build an entire design around one beautiful yet stunningly unique sink.

In terms of uniqueness, one area to focus is the shape of the sink. When buying kitchen sinks online, look for interesting shapes and spectacular finishes. You can find double bowl sinks that offer an off-center divider, which adds character to the sink but provides the essential daily function that you need. With a low divider, it makes it easy to wash large pots and pans without the hassle of a high and large divider blocking your space.

Furthermore, you can incorporate the finish of the sink to complement or contrast with the backsplash, countertops, or even the cabinets. While stainless steel is a very popular choice, you can find plenty of kitchen sinks online that offer an array of colors and finishes that are perfect for your personal style.

If your taste in kitchen design involves elements inspired by nature, you'll love the next upcoming trend.


Incorporate Natural Elements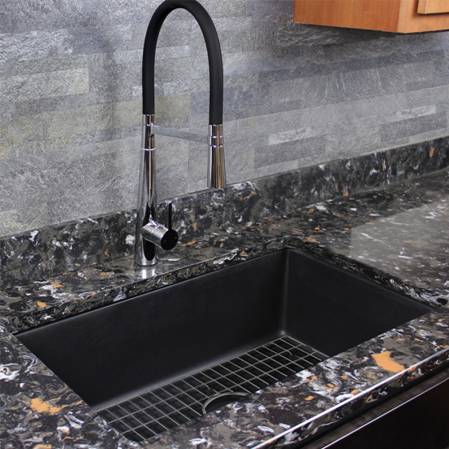 In 2019, you'll find natural elements through an entire kitchen's design. The sink is an easy component to play on the trend of natural elements. For homeowners who prefer a stark contrast with finishes in the kitchen, consider installing a sink with an industrial flair. Stainless steel can beautifully complement butcher block countertops, which plays off the warmth of the wood.

Two additional elements to consider for your sink are quartz and granite. Both options are natural stone and come in an array of hues that hit the right note for any natural kitchen.

Perhaps one of the primary examples of a sink that fits into a natural kitchen theme is the farmhouse style. A farmhouse sink serves as a highly functional yet decorative product. According to Houzz, this style came into kitchens during the late 17th century in Ireland and Britain. Today, this sink is generally deeper than most undermount sink products. They are very useful for washing large baking sheets and trays.

Are you frequently finding yourself scrubbing away on oversized kitchenware? The next trend makes dishwashing a breeze for even the largest pots and pans.


Large Sink Selections for Busy Kitchens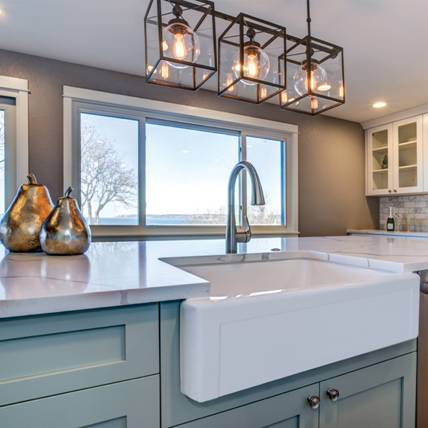 When dishes pile up faster than you can wash, a solution can lie within a large kitchen sink. Large sinks provide extra space to store dirty dishes so you can keep your countertops clean and clear. Once you're ready to wash, you have plenty of space to roll up your sleeves and get to work.

Are you wondering how to choose the size of a kitchen sink? You'll need to consider the size of your kitchen as well as the countertops. Large sinks require large base cabinets. The depth of the sink will also cut into the storage space that you have within the cabinets below.

Don't forget that kitchen sink accessories can also enhance the efficiency of dishwashing without increasing sink size.

There are so many unique features and elements you can consider for your next kitchen sink, but this last 2019 trend will give you the best return on investment with your new product.


Quality Kitchen Sinks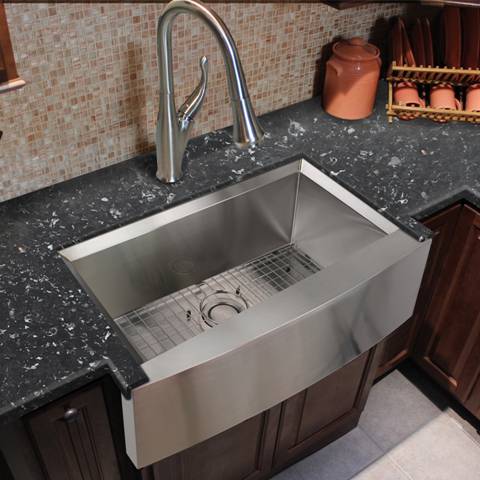 No matter what style suits your taste, one element remains the same across all sink trends: quality.

A quality sink can last you 20 years, if not longer. The key is choosing durable products that are resistant to the typical wear and tear from day-to-day dishwashing activities. For example, granite is incredibly resistant to high temperatures, scratches, dents and chimps, and impact from items being tossed into the sink.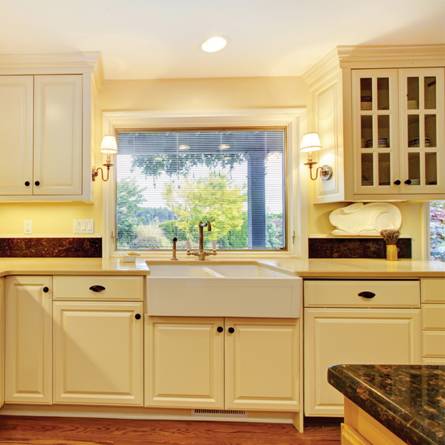 Whether you're looking for kitchen sinks online or you want an entire overhaul, Bath1 and our Transolid products provide the quality and beauty you need for products that last for decades. Explore our kitchen sink products and more for a custom kitchen that you're sure to love

Leave A Comment